May 8, 2005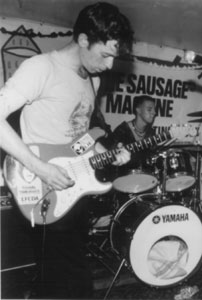 Hi Sara,
OK - here is the chronology of 1993 and various other bits and pieces. I hope you're ready for this, it's pretty long!
Here's a LOAD of stuff from my 1993 appointments diary and a handful of journal entries. What a busy year I had! Sadly I don't have one for 1992 or 1994 (though there is a little bit of '94 stuff in this one). I've included as much relevant detail as I can think of – and some that isn't strictly relevant but might give useful background. I don't know how much of this is necessary stuff, but I'm assuming that as a music/culture nut like me, you'll be interested in most of it at least. It's very me-me-me of course because it's my diary, but it'll give you an idea of what it was like to be around this scene back then.
First, some background. You can read our band history at www.linusland.co.uk – but briefly, Jen, Tammy and I had been playing together since 1989, became a proper band in 1992, and subsequently became interested in riot grrrl – I'd seen it mentioned on the K Records/International Pop Underground Festival newsletter (picked up in Rough Trade) in '91 I think, then I saw Huggy Bear (at Dale Shaw's insistence) at the Rough Trade shop in '92, where they were like a gang of kids laughing and Chris had to lie in front of Karen's drums to stop them falling over; and again at the Venue in New Cross (supporting Sebadoh), then at the Scala (with Stereolab and the Tindersticks), with Jen – by which time I had started making flyers & zines inspired by this tiny scene, and the others, after a bit of scepticism initially, had gotten interested; and at the Bull & Gate (with their "PUNK ROCK QUEERS" banner), where Bloodsausage performed for the first time – astonishing us, as Dale had been saying for years that he'd form a band called Bloodsausage one day and there he was, and against expectations – he was a shy little guy – he was great.
The Huggies also played with Sonic Youth and Pavement at Brixton Academy, but they were on really early and I missed them. I remember Nigel from the Rough Trade shop describing their performance to me, saying how Niki was on raging form. Gary might have the dates of all those shows. Then there was a show at the Monarch where I think they played unannounced, they had been recording that day and my journal says the show was "raw and bitter" – I'm pretty sure this was when I first saw them do 'Herjazz' and the lyrics were quite different.
We did our zine in time for the Sonic Youth show and people started namechecking us immediately, even though none of them had seen us play yet. Niki came up to Jen at the White Horse and said "everyone loved your zine... it's brilliant." We felt proud and vindicated, finally a little bit of recognition and some people who understood!
It must also have been in 1992 that we saw God Is My Co-Pilot at the Rough Trade shop in Covent Garden. I have some bad photos of that show. Jon Huggy was there, among others.
There was a lot of suspicion of the music press, as different journalists tried to 'own' the scene. Jo left a really long message on Jen's answering machine one night, probably in early '93 – about fifteen minutes of her thoughts on the media and how we should be wary of talking to the press – they were not giving interviews (and I think Jo was a bit upset when we finally did a couple). She said "I hope this doesn't sound patronising", and we were quite touched by it, actually.
I was not working full-time during this period. I was freelancing – illustration and cartoons – and signing on the dole in between times. I was also volunteering regularly at the pro-choice pressure group NAC (National Abortion Campaign – two years ago they merged with another group and are now called Abortion Rights) in Dalston, East London (near where I now live, since 1999. Back at the start of '93 I was living in Notting Hill in West London, before moving to Oxford). NAC had a printing machine which made cheap, high-quantity copies at much lower cost than a photocopier, and so I used this to bring in funds for NAC by making people's zines there.
Sean Forbes, a.k.a. Big Sean, pops up a few times in the chronology. He is a well-known and much-loved figure in both hardcore punk and indie-pop, who has worked at the Rough Trade shops for donkey's years.
"Jen" refers to Jen Denitto from Linus, while "Jenni" refers to Jenni Scott, my girlfriend at the time.
Monday Jan 4th 1993:
Linus rehearsal with Sean. We'd been offered a gig at the Monarch, but our drummer Peter was away. We decided to play anyway when Sean offered his services.
Tues Jan 5th:
Linus at the Monarch in Chalk Farm Road, Camden, supporting Bloodsausage, with countless other little bands. Our third-ever gig. We played three songs, at breakneck speed (Sean doesn't do 'slow').
Sat Jan 9th:
Cornershop at the Venue, New Cross (a south London venue which is still open, but has mainly cover-band shows these days).
Wed Jan 13th:
Terminal Cheesecake and the Shock Headed Peters, upstairs at the Dome in Tufnell Park (TC, a Swans/Buttholes-esque noise band, were one of the first bands signed to WIIIJA, along with Bastard Kestrel and Silverfish, before Gary was involved with the label. Shock Headed Peters was Karl Blake's band – he'd been in the Lemon Kittens with Danielle Dax – we were big fans & became friends with him. Huggy Bear once covered their gay love song 'I, Bloodbrother Be'. The Dome was a pub with an upstairs venue – quite big, I'd seen Fugazi and the Beatnigs there on their first tour – and a smaller one downstairs).
Thurs Jan 14th:
Bi-Joopiter anniversary at Bunjie's (Bi-Joopiter was a tape label originally, I think, and Calvin Johnson performed at this – with Sean and his pal Ben playing bongos – a version of 'Make It Fucked-Up'. We did a short acoustic set – unplanned, someone just invited us to play since we were there. We bumped into Dale and various other people on the way there, and I had my first proper conversation with Jo Huggy. I think they had just recorded 'Herjazz'. Bunjie's was an underground cafe off Cambridge Circus in the West End, where many riot grrrl meetings took place. It closed down years ago).
Fri Jan 15th:
Lois gig at the White Horse in Hampstead (the home of Paul Cox's 'Sausage Machine' shows).
Tues Jan 19th:
Even As We Speak and Scaredycat at the Monarch (EAWS were an Australian band on Sarah Records. Scaredycat were a shambolic, boy/girl-fronted experimental band who played at just about every show at the Monarch in those days).
Fri Feb 5th:
Sofahead, Linus, and Catspaw at the White Horse (Sofahead were a punk band whose frontman later booked a tour for us which we weren't very impressed with. Catspaw were a bog-standard post-Mary Chain indie band). Everett True from Melody Maker & Liz Evans from NME had turned up specifically to see us, which was something of a relief since ET had tried to arrange an interview with us before even hearing us – something we didn't feel very comfortable about. Our set was six songs in eleven minutes, lots of energy and a great gig according to my journal at the time. Jen was disappointed because we finished too late for her to get to Underworld in Camden to see Cornershop.
Fri Feb 12th:
Huggy Bear on 'The Word'. The famous 'riot' occurred, as far as I remember, when a couple of people heckled an item about porn stars the Barbie Twins, and Sarah from WIIIJA got some hassle from a bouncer. She was ejected and the rest of us followed her out in disgust. It was not a pleasant place to be, the security people were very heavy-handed. Early on, Tammy had been told to "smile or get out".
Sat Feb 13th:
I moved house from London to Oxford, with our drummer Pete driving the van. I mention this because it shows how ridiculously packed that weekend was...
Sunday Feb 14th:
Huggy Bear, Bloodsausage, and Linus in Brighton – in a smallish venue above a pub called the Richmond. This was the Valentine's gig I told you about where we handed out about a hundred home-made valentines to bemused and suspicious audience members. A girl called Josie did some spoken word during our set – so did I, at the end, and we were encouraging each other backstage beforehand (Josie and her friend Kay did one of my favourite riot grrrl zines, a conversation between the two of them about their friendship). The writer Stewart Home did some reading too and Josie heckled him, annoying Tammy, and making me feel a bit nervous because at the time he was going out with my pal Erica 'Girlfrenzy' Smith. There was a free 7" EP of Huggy demos given out on the door. This was the first Huggy gig I'd seen which I didn't enjoy – "too loud, too much shouting, too one-dimensional" according to my journal.
Mon Feb 15th:
We visited Jo at home, in the house she shared with Everett True among others, and watched a tape of Huggy Bear's appearance on 'The Word'.
Private view of the Brighton comix exhibition 'Small Press – Big Comics' at the Maze Gallery, North Road, Brighton. This was an exhibition organised by Erica Smith, editor of the all-female comics and music/culture zine 'Girlfrenzy', which started in 1991 and had been a precursor of riot grrrl in the UK. The show featured non-comics artworks by female cartoonists – knitted portraits which looked like shag-pile carpet, a little tree with tiny comics hanging off it, a full-size boudoir screen made of cardboard. The Maze gallery had been a shop on a corner in North Road and the exhibition occupied the ground floor and basement. Jo and Jon from Huggy Bear came, as well as Dale, David (Comet Gain), and a bunch of underground comix people.
Thurs Feb 18th:
I printed 100 copies of Dale's zine, 'Dipper'. He had completed it months earlier and left the artwork at my place, apparently resigned to not putting it out – through lack of funds or whatever. It was the second zine he'd done and not released, both of them great, so I took it over to NAC and printed it up as a surprise.
Tues Feb 23rd:
I stapled Dale's zines, put them in two carrier bags and took them to: Bloodsausage, Linus, and the Voodoo Queens at the Monarch, celebrating the release of the first Bloodsausage single. Priceless look on Dale's face when I presented him with the zines, and 30 copies were sold on the door that night. Also playing were Scaredycat, Comet Gain, Cee Bee Beaumont (a garage instrumental band with members of Bloodsausage and the McTells – they had a guest singer who flipped pancakes onstage because it was Shrove Tuesday, known as Pancake Day in the UK – do you have that tradition too?), and others. At this show Jim 'Arundel' Irvin and Sally 'Margaret Joy' Still first approached us about doing a Linus record.
Fri Feb 26th:
Phone call with Jen, she told me that Jo wanted to put out a Linus record too. The plan that developed was that she would team up with Jim and Sally, the distributor APT having offered her funds to start a label, but eventually she was not involved.
Tues Mar 2nd:
Pussycat Trash at the Monarch.
Wed Mar 3rd:
Bikini Kill, Huggy Bear, and others played at the Conway Hall. The gig started at noon. For some reason I couldn't attend this show. I heard that Poly Styrene, Pete Shelley, and Crass's Steve Ignorant had shown up. The Conway Hall, in Red Lion Square, is a longstanding venue for left-wing events. I just found out that Tammy has video footage of this show (and from a Voodoo Queens show around this time).
Thurs Mar 4th:
Moved the rest of my stuff to Oxford. Can't believe I was moving house in the midst of all this!
Sat Mar 6th:
Party at Prince's Street in Oxford. I had moved to Oxford to live with my girlfriend Jenni Scott, who was part of a tiny community of people there doing small press zines and comics. Prince's Street was where Jo Dennis (she later changed her name to Jeremy, but not in the sense of identifying as male, she just liked the name better than Jo) and Damian Cugley lived – Jo/Jeremy was and is the main creative engine behind that scene, and she and Damian later did a newssheet called QZ, a UK equivalent to Larry-Bob's Queer Zine Explosion in the States, where they listed details of dozens of queer, grrrl, or related zines and comics from around the UK and elsewhere. Their parties are legendary, their houses are always full of amazing pop-culture junk. This party was partly to welcome me to Oxford.
Sun Mar 7th:
Heavenly, Pram, Linus, and Kittenbirds at the White Horse, Hampstead (Pram I expect you know about? In fact one of them was ill and they didn't play in the end. I can't remember anything about the Kittenbirds, except that they were really bad. This was the first time I saw Heavenly. Becky from Hissyfit did some spoken word during our set).
Wed Mar 10th:
7 Year Bitch at Underworld (it was the end of a long tour and they were noticeably flagging, I was a bit disappointed). Sean and Ben were there, and Ben told me Penny Rimbaud from Crass had been in touch with the Huggies and offered to revive the Crass Records label for a Huggy Bear single. They declined.
Thurs Mar 18th:
Bikini Kill, Huggy Bear, and Linus in Brighton – I think the venue was part of the Brighton Pavilion complex, a very big place. We had an argument on the train down because I'd forgotten to bring a sheet of A3 paper – we'd planned to do a zine page for Melody Maker instead of an interview. Relationships within our band were bad at this point. This was the show where Jo turned up with that big bruise on her face after being attacked at one of the gigs on the tour. Her whole ear was purple. Jen and I helped to collate and fold the new Huggy zine 'Reggae Chicken'. I met Karren Ablaze for the first time, though only to buy a zine from her. There was a beach party after the show, though a pretty subdued one thanks to the cold weather!
Fri Mar 19th:
Spent the day at Jo's and walking round Brighton with Dale, Jon, and Slim Moon from Kill Rock Stars, who was an enthusiastic gossip.
Sat Mar 20th:
"All-girl" show at the White Horse, with Bikini Kill, Huggy Bear, and Linus. This was the one I mentioned with no men allowed in the audience, where Pete & I played behind a sheet as a joke. Chris Huggy ran off before the show and didn't appear with the band. I spoke with Karren Ablaze properly for the first time.
Wed Mar 24th:
Pram and Hair & Skin Trading Co at the Jericho Tavern, Oxford (Hair & Skin were a spin-off from the dull psychedelic band, Loop. The Jericho was a pub with a small upstairs room where a guy called Mac put on gigs. He was a friend of Amelia's but we always found him completely obnoxious, as did many other bands who played there. I went to this gig to sort out a show there for Bikini Kill, and Pram's drummer had quit that day so again they didn't play – seemed for a while I was fated never to see them).
Wed Mar 31st:
Bikini Kill, Comet Gain, and Carousel at the Jericho Tavern. I'd set this in motion, Amelia did the proper work. Mac stood with a guy from the band Ride, sneering and heckling throughout the gig. Carousel was a band fronted by an ex-member of Talulah Gosh, with Amelia as guest member. Amelia said to me that it was a good thing Comet Gain didn't play that well, because if they did, they'd end up sounding like Deacon Blue. BK messed around, swapping instruments and so on, for the first half of their set, then really took off after some technical problems halfway through – launching the second half of their set with a few bars of the Germs' 'Shut Down'.
Sat Apr 3rd:
Bikini Kill, Bloodsausage and Linus at the Bull & Gate, Kentish Town. This was the last date of BK's tour, word had got round and the place was crammed. It was an electrifying gig. Members of Sebadoh were in the audience, and their pals 'Thinking Woman' (a.k.a. Drinking Woman if I recall correctly) did a song with Sebadoh's drummer. There was also the usual spoken word stuff – Becky from Hissyfit, and Kathleen Hanna attacking the press. She was very intense that night.
Tues Apr 6th:
Jen came over to Oxford and we visited David and Dale at David's place, where we heard some early Huggy Bear four-track recordings, some of them delightfully experimental.
Thurs Apr 8th:
Pete & Rachel from Newcastle (Slampt/Pussycat Trash/Avocado Baby) were in London, and Tam, Jen, and I went over to NAC with them and Chris Phillips to print a few different zines of theirs (including Rachel's 'C'mon Swing It', and Pete's 'Pungk Punk' and 'Head Shaved Smooth') and to paste up the planned Linus zine page for Melody Maker (we did an interview instead in the end). We all sat in the corridor outside the office collating and folding. Benefit for Shelter featuring Huggy Bear, Bloodsausage, Jacob's Mouse, Mambo Taxi, and Cornershop, at the Powerhaus (all the bands were on WIIIJA except for Mambo Taxi, and I think Gary arranged this gig. Shelter is a charity for the homeless. The Powerhaus was a venue in Angel. There was a lot of zine-swapping on the stairs leading to the toilets in the basement, and I handed out loads of NAC leaflets at the show. One male kid was wearing a t-shirt which said "riot grrrl lives and we're its heart" on the back – Jen spoke to him and explained her misgivings about him wearing this slogan, and he produced an L7 one from his bag and changed into it. John Peel and Joe Dilworth – a music press photographer who'd drummed in Stereolab and Th'Faith Healers – were DJing, and Peel complemented me on our set at the Bull & Gate. Mambo Taxi were a garagey all-female band who had originally featured Anjali – Voodoo Queens singer/guitarist – on drums, and one of their guitarists was Delia, a friend of Dale's who ended up working at Rough Trade and is now a lynchpin of the London scene, compiling gig listings for Artrocker, dancing with the Actionettes, and playing in countless bands including the Family Way, the Phantom Pregnancies, and currently, the Schla La Las and the A-Lines. Early on, the bands identified by the press as constituting the riot grrrl scene were Huggy Bear, Mambo Taxi, and us).
Fri Apr 9th:
Launch of Clinton Heylin's book 'From the Velvets to the Voidoids' at the Scala cinema (now a gig venue and nightclub). This included amazing archive footage of the VU, Stooges, NY Dolls, MC5, Patti Smith, Television, etc etc, which I still think about today.
Tues Apr 13th & Wed 14th:
Recording of the first Linus EP at Granny's, Ian Shaw's little studio in Fulham (later known as Shaw Sound) where Huggy Bear made most of their early records.
Thurs Apr 15th:
The Girlygig at the Monarch. Jen organised this women-only show, where Sister George played their first gig. I think Hissyfit played too but you'd need to ask her. Sister George were the first (and until Children's Hour and Mouthfull formed, the only) UK queercore band, and had a similar sound to us, and we became sort of brother-and-sister bands.
Tues Apr 20th:
Wordcore at the Monarch. I think this spoken word show was mostly Jo from Huggy Bear's idea. She spoke (I think), I spoke, and a few other people, including the black guy who often did the sound there, who made some pertinent points about the lack of race-awareness in the scene. (I think he also drummed in the band Tobermory, who I saw once or twice.)
Sun Apr 25th:
I was in the team of volunteers at my friend Mandy's huge NAC benefit at the Hackney Empire, a big theatre in East London. Comedians Mark Thomas, Donna McPhail, and Rhona Cameron (then called Rhona Campbell) performed, along with the Well-Oiled Sisters, a celebrated lesbian country-punk band.
Thurs Apr 29th:
Bloodsausage at the Bull & Gate.
Mon May 3rd & Sunday 9th:
Printed an issue of Caption at NAC. Caption was a free-access zine about small press comics run by my girlfriend Jenni, named after the annual gathering she and the other Oxford comix people ran – the second one was due to take place in Summer '93. The zine ran bi-monthly for several years, and Caption still takes place every Summer.
Sat May 15th:
Printed 'Newsletter for Gurls' (latest edition of the UK riot grrrl newsletter/zine; different people would compile it & design it each time) at NAC. I believe there was some discussion over whether a guy should be printing it (& would therefore be able to read it)... Cornershop, Mambo Taxi, and Linus in Brighton. The venue was in a hotel, the Madeira. Cornershop (at this time still pretty inept musicians) were unbearably loud. Astonishingly, Jenni curled up on a sofa and went to sleep during their set. That woman can sleep anywhere.
Thurs May 20th:
Linus, Skinned Teen, Hissyfit, and others at the Monarch. According to a Chocolate Psychosis flyer I have, Sister George were also on the bill.
Fri May 21st:
There was to have been a gig with the Furbelows (Huggy offshoot), Linus, and Skinned Teen. It was cancelled, rescheduled elsewhere, and cancelled again. I never got to see the Furbelows – in fact it's possible they never played live.
Sun May 23rd:
½ Japanese and Linus at the Jericho, Oxford. We brought Comet Gain with us but Mac wouldn't let them play. Jen called him an asshole from the stage, if I remember correctly. We never played there again.
Wed May 26th:
½ Japanese, Pram, Linus, and Wordbug, downstairs at the Dome, Tufnell Park. Looks like Tsunami were playing that night, over at the Powerhaus, too – also with Pram! Dunno if that took place. I've a feeling maybe Pram didn't play at our show.
Thurs May 27th:
At the time I was on the committee of the Comics Creators Guild (CCG), and we had a special meeting about censorship on this night, to discuss a response to a raid on the comic shop Gosh. Customs had raided the store and seized a whole bunch of stuff & we discovered that they were empowered to hold onto it almost indefinitely. This issue was ongoing for months. At the time it all seemed to key in to the anti-censorship stuff I'd been reading by people like Pat Califia (& the Dead Kennedys' various censorship battles), which had fed into my initial interest in riot grrrl.
Sat June 5th:
The Pastels and Comet Gain at the Venue, Oxford (now called the Zodiac).
Sun June 6th:
Sebadoh, possibly Royal Trux (I think), and Linus at the Garage, Highbury & Islington. I left after our set to rush over and catch the second half of the Velvet Underground show at Wembley Arena.
Monday June 14th:
Mastering of Linus EP.
Tues June 15th:
"Interview?" Did we do one? Who with? Probably our interview with Melody Maker or NME.
Thurs June 17th:
Recording three Linus songs at Granny's, for the WIIIJA double 7" 'Some Hearts Paid to Lie' (also featuring Pussycat Trash, Skinned Teen, and Comet Gain. The record's title was supplied by Chris Huggy).
Fri June 18th:
"Interview?" again. Presumably also one of the MM or NME interviews. (When the guy from the NME interviewed us, at Bunjie's I think, he only brought a notepad – no tape recorder – and was unnerved to find that Jen was taping the interview to make sure he didn't misquote us. He did anyway.)
Tues June 22nd:
Shock Headed Peters and Sister George at the Monarch.
Sunday June 27th:
I went with Jenni, who is half-Brazilian, to see the Brazilian singer Caetano Veloso at the Royal Festival Hall. Total contrast to the other shows I was seeing at this time.
Fri July 2nd:
Huggy Bear, Sister George, and Skinned Teen at the Notre Dame Hall, off Leicester Square. The Notre Dame Hall was a big place with (as I remember it) an incongruous disco ball on the ceiling. I think this was the Huggies' last official gig before touring the States.
Sat July 3rd:
Skinned Teen, downstairs at the Dome. Huggy Bear and Bloodsausage played too, unannounced. The Huggies' drummer Karen was away so various people played drums, including Sean I think. Jenni and I ran a comix table, and I drummed on 'Carn't Kiss' and sang (with Nikki) on a version of the Sonics' 'Have Love, Will Travel'. The same night, Sister George were playing at Chat's Palace, a venue in East London.
Thurs July 8th:
Printed the Linus EP insert zine at NAC.
Tues July 13th:
Bratmobile and Bloodsausage at the Dome. I couldn't go to this gig.
Wed July 14th:
Bratmobile and Heavenly in Brighton. Didn't see this either.
Thurs July 15th:
Hole, Linus, and Rollerskate Skinny at the Clapham Grand (Mambo Taxi were due to play as well, but dropped out after a dispute with Hole's people over the running order. The Grand was a big theatre/venue, and it's the biggest audience we've ever played to. This was another very loud gig where Jenni dropped off to sleep. I think Courtney Love briefly wore a black wig to mock PJ Harvey's queasiness about the word 'feminist' – something Jen had also done a zine about. RS were boring).
Sat July 17th:
Caption 1993 in Oxford, the small press comix & zines event mentioned earlier. By this stage I was also involved in the organisation of it. These days it's a two-dayer.
Sat July 24th:
Voodoo Queens at the Rough Trade shop, Covent Garden, at noon. I doubt we went to this, because we'd have been soundchecking for: Bratmobile, Heavenly, Linus, and Pussycat Trash at the Conway Hall. Some idiot from one of the music papers reviewed Pussycat Trash's set and said it was us. This was the one time I saw Bratmobile, until 2002. I was mesmerised. In the evening there was one of the Exploding Cinema shows – a sort of film-gig in a pub in Oval where they'd show short films and people would stand and drink, clap and heckle just like at a band show. Not sure if we made it there after the gig.
Wed July 28th:
Recording of the Element of Crime EP (to launch the Soul Static Sound label, run by a guy called Darryl from the Covent Garden Rough Trade shop) at Toerag in Shoreditch, East London. Element of Crime was: Chris Huggy on vocals, Dale on bass, Darryl (not the same Darryl) from Sister George on drums, and me on guitar, with Jo Huggy playing bass on one song and also Layla from Skinned Teen singing back-ups on that song. Niki was present but didn't participate. We wrote and recorded four songs in 3 ½ hours. During a break, Skinned Teen recorded their own EP for Soul Static Sound, 'Karate Hairdresser', in about fifteen minutes.
Thursday July 29th:
Remix of 'Some Hearts...' tracks at Granny's. Meanwhile, Chris did a horrible mix of the Element of Crime recordings over at Toerag. The rest of us hoped to remix it, and made a date to do it, but Toerag double-booked us and we never got the chance to do it. I still regret this!
Friday July 30th:
During this time we also had regular band rehearsals of course, and on this day we rehearsed from 2.45 to 5.45 and then went over to: Sister George, Hissyfit, and Tobermory, at Rails (a pub at Euston Station).
Sat Aug 7th:
Linus and Razorblade Smile, in a bar in Brighton at lunchtime. Razorblade Smile was a band co-fronted by Pete Dale from Slampt, dating from a while before riot grrrl, and they split up not long after. Chris Phillips, co-promoter of the Monarch gigs, had released a couple of singles by them on his Chocolate Narcotic label (later he and Loretta ran the PIAO label together, releasing records by Lung Leg, Emperor Julian – a great band from Chester we'd discovered while on tour, through my comix connections – and Girlfrendo. I think they did a Yummy Fur 7", too). The same day in Brighton was the "Lesbian Beach Rebellion", though for obvious reasons I didn't go. I have a flyer for this designed by Erica Smith.
Monday Aug 9th:
Linus, Razorblade Smile, and Hissyfit at the St Johns Tavern in Archway (this venue was a "country & western room" behind a pub, where we had seen Gallon Drunk shows a few years before).
Tues Aug 10th:
Mastering for the 'Some Hearts...' EP.
Fri Aug 13th:
Linus, Pussycat Trash, and Milky Wimpshake at the Broken Doll, Newcastle (a scary biker pub, above which was this little room where flowery-dressed riot grrrls were selling fairy cakes. This was Milky Wimpshake's first gig – just Pete and a shy girl drummer called Joey, improvising songs on the spot, great songs which were the basis of the tape they released a little while later. They were much softer-sounding and more serious than they are now. It was an amazing Linus gig. There weren't enough mics, so I just sang my back-ups really loud. We were laughing and storming away, it was great).
Sunday Aug 15th:
Linus, Frantic Spiders, and All Living Fear at the Cavern, Exeter (organised by Charley from the Frantic Spiders, an all-female indie-rock band who moved to London not long after this to participate in riot grrrl/queercore. I took Charley's four-page zine away with me – there were a lot of these being done at the time, they were called 'fastzines' – and we became pen friends, and she's been one of my best friends ever since, sharing a flat with me and ex-Frantic Spiders drummer Caroline between 1999-2003. Here I also met Mo, an artist who flits in and out of the scene to this day. All Living Fear were a local goth band, whose leader Matt saved the gig by pointing out to the soundman that he'd forgotten to switch the PA on).
Monday Aug 16th:
Huggy Bear release party at the Bull & Gate. I have no recollection of this or what it involved, or what the release was – presumably the split LP with Bikini Kill. Gary should know.
Sunday Aug 22nd:
Frantic Spiders at the Bull & Gate.
Monday Aug 23rd – Tues 24th:
Linus recording at Granny's. This was to be a new EP but ended up as part of our album 'Yougli' the following year.
Wed Aug 25th:
Mastering the Element of Crime record. Visit to WIIIJA – something to do with the artwork for 'Some Hearts...', and the ads I was drawing for them at the time.
Fri Sept 10th:
I turned 30. (Chris Huggy is about my age, maybe a year older.)
Sat Sept 11th:
My diary says "Jesus Lizard". Don't know where the gig was, or if I went. We'd seen them a few years before & they'd been a big influence on our band.
Mon Sept 13th:
Jon Spencer's Blues Explosion, Scrawl, and Linus, at the Duchess of York, Leeds. This was the first date of a short tour with Scrawl.
Tues Sept 14th:
Scrawl and Linus, at the Adelphi, Hull.
Wed Sept 15th:
Scrawl and Linus, at the Cricketer, Wigan.
Thurs Sept 16th:
Scrawl and Linus, at the Princess Charlotte, Leicester.
Wed Sept 22nd:
Printed some gig flyers for WIIIJA at NAC. Scrawl, Linus, and Pussycat Trash, at the Powerhaus.
Sat Sept 25th:
Linus meeting at Bunjie's. I'm pretty sure this was where Peter announced he'd decided to quit – having mentioned the possibility before the Scrawl tour – so we would have discussed finding a new drummer, and maybe our label options, as Jim & Sally had decided not to continue with their label, Bone, whose sole release was our first EP. We didn't have the funds to do our own records – not that we do now, really, but at the time there were other labels who were prepared to step in.
Thurs Sept 30th:
Truman's Water and Linus at the Garage. That day I had printed yellow 'menus' for our set, which Tammy and I had designed (I think) in a curly font like a restaurant menu, which we handed out before we played.
Sat Oct 9th:
"WIIIJA gig – Laurel Tree". I don't know who played, whether we did or whatever. I told you about the Laurel Tree – a gay pub in Camden where Chris and Loretta promoted shows. (The club Blow Up began there around this time.)
Mon Oct 11th:
"'Take That' & Pussycat Trash – Bull & Gate". Was this a tribute band?? I don't know. I don't think I went to this show.
Wed Oct 13th:
Tribe 8, Sister George, and Frantic Spiders at the St Johns Tavern (only Lynne Breedlove and the bass player had made it into the country, so Sister George learned their songs really fast and took the place of the rest of Tribe 8, as well as playing their own set).
Mon Oct 18th:
Linus rehearsal & drummer audition, 11.30am-2.30pm. Meeting with Jim at Melody Maker at 6pm. Tribe 8 and Sister George at Heaven.
Tues Oct 26th:
Sister George and the Terrorist Trash Stars at the Monarch (TTS were a terrible Welsh band fronted by a creepy kid called Jon who ran a tape label).
Thurs Oct 28th:
Lois, Heavenly, Meredith, and Delicate Vomit at the Garage (DV were a hilarious three-girl band from Newcastle. I can't remember anything about Meredith. I remember that instead of Molly from Bratmobile, Lois had a new drummer, also called Molly, who played in a completely inappropriate slow rock style).
Fri Oct 29th:
Sister George, Butterfingers, and Hissyfit, at Rails, Euston.
Tues Nov 16th:
I met with Tammy in Hammersmith at 11am, to pay the deposit at the Emerald Centre for our festival, PIAO. In the evening we met with Nick from Elemental Records, the UK arm of Alternative Tentacles (later bought from AT by One Little Indian), to discuss signing to the label. We had also had discussions with Cherry Red, but did sign to Elemental in the end.
Tues Nov 23rd:
Meeting at Elemental.
Thurs Nov 25th:
Linus, Sister George, and Butterfingers at a tiny place in Kingston, a suburb of West London. This was a terrific gig. Though I saw Butterfingers twice I can't remember who they were or what they were like.
Thurs Dec 2nd:
Linus at the ULU bar.
Sat Dec 11th:
Linus, Sister George, Witchknot, and others at the 1 in 12 in Bradford. The 1 in 12 is a longstanding anarcho venue. Emma from Children's Hour drove us and Sis George up there in a van, through the snow. The gig was set up by Witchknot, a crusty-punk-hippy-grrrl band who had their (Raincoats-esque) moments. It was very badly organised (Witchknot's set started with them standing onstage for literally twenty minutes wondering why there was no sound coming out, until a man got up & sorted it out for them by changing a duff lead! We were unimpressed, and Tammy was livid because we were headlining and went onstage two hours late. Nowadays, Lianne Hall from Witchknot is a superb solo artiste and a good friend).
Tues Dec 14th:
Sister George and Linus at the Bass Clef, a little jazz venue in Old Street, London.
Wed Dec 22nd:
WIIIJA Xmas party: Huggy Bear, Jacob's Mouse, Cornershop, Skinned Teen, and Fabric, at the Powerhaus. I'm pretty sure this was the first Huggies show after their US tour, and they were noticeably much tighter and more slick than before, but lacking a bit of passion. The same day, Tammy and I bought a guitar with a tiny practice amp for Jen's birthday/Christmas present (Jen was born on Christmas Eve).
That's the end of my '93 diary, but there are notes for '94 at the back.
Mon Jan 10th-Fri 14th, Mon 17 & Tues 18th, and Fri 21st-Mon 24th,
we recorded the rest of our album.
Sun Jan 30th
was Lucy's event – her Bikini Kill film, plus live music from Sister George and Children's Hour (I think CH only ever played about two gigs).
Fri Feb 11th
we recorded B-sides for our 'Super Golgotha Crucifixion Scene' single.
Sat Feb 12th
we played with Jon Spencer's Blues Explosion at the Garage. Maybe it was this one that Royal Trux played at. I forget.
Sat Feb 26th
and Sun 27th was the PIAO Festival. See below.
Thurs Mar 3rd
was a Raincoats show – I think this was their first show after reforming – at the Garage, which was packed out and truly amazing. We were to have played too, according to my diary – I'm not sure why that fell through. Later we played a show with them and the Voodoo Queens at the Astoria 2 (now called the Mean Fiddler).
Fri Mar 4th
we played with AC Acoustics, at the Russell Arms (the Sausage Machine venue of the time) according to a flyer I have.
Tues Mar 8th
we played at North London Poly. I think this was the show that was organised by Melody Maker writer Ngaire-Ruth, who was a student there (she had been instrumental in hooking us up with the Frantic Spiders in '93). It was an awful show and shortly after that, our second drummer, Andy Watts, was ejected from the band – right before we were due to tour our album!
I think I only saw one more Huggy Bear show after the Xmas one. It was at the St Johns Tavern, and I was chatting to someone while they were playing (the cartoonist & anti-censorship campaigner Xtina Lamb I think... I knew her through Erica, but also she was going out with Owen from Bloodsausage at the time) when suddenly they launched into the Avengers' 'We Are The One'. I love that song & it was as if they'd read my mind. I ran to the front of the crowd, having to apologise as I stepped on a few people's toes on the way.
The PIAO Festival was the big event of 1994. It was almost certainly Tammy's idea, though she might remember differently. She and Jen organised it with the help of Chris and Loretta – Loretta named it PIAO, Pay In Advance Only. The venue, the Emerald Centre in Hammersmith (since flattened to make way for a bigger tube station and a shopping centre), was a community hall with no music licence, and all tickets had to be sold in advance so we could make out it was a big private party. There were two rooms, one with zine tables and our friend Mo running an art workshop, the other with a stage. We had a PA and backline on the stage and another PA and backline in one corner, so that as one band finished another could start up straight away. There were at least 35 bands, including Heavenly, Gorky's Zygotic Mynci (we think this might have been their first London show), Prolapse (with various household appliances on stage, and violent demolition of a bread bin), Frantic Spiders, Pussycat Trash (and Avocado Baby), Witchknot, Beatnik Film Stars, Delicate Vomit, Emperor Julian, Coping Saw, Mambo Taxi, Sister George, Hood, I'm Being Good (a noisy Brighton band which Jon joined briefly after leaving Huggy Bear), Lollyshop, Th'Faith Healers (with Linda from Prolapse singing if I remember rightly), Schwartzeneggar (Steve Ignorant from Crass's band – Chris's idea to book them – they attracted about five drunk crusty-punks to the show), and not forgetting Linus. I was stage manager and spent the whole weekend running to and fro with a clipboard.
When our album came out in the Spring we toured with AC Acoustics, and did a live session for Radio 1 during the tour. Also in '94 we played a great show at the Sausage Machine (situated at that time in a white room in the back of a pub in Mornington Crescent, between Camden and Euston) with Lung Leg supporting – they hadn't been together very long – they struggled their way through a cover of the Raincoats' 'Fairytale in the Supermarket', but they only really knew the chorus so they kept playing that part. We also did a show in Madrid for Elemental's distributors over there, and played three shows in the USA – New York, Philadelphia, and Washington DC. The New York show was with God Is My Co-Pilot, as part of the annual CMJ thing. Jen and Tam stayed at the GodCo house, and heard tales of how Huggy Bear had stayed there and seemed not to want to leave, hanging around for days and days... in Washington we met up with Dale, who was living there – he took us to meet Marge from Slant 6 in the restaurant where she worked, and to the Fugazi house where we met Guy Picciotto. We were shy and not very talkative.
Here's full dates from a flyer for the Bratmobile tour of 1993:
Tues 13 July, London, Dome (with Bloodsausage and Space Maid)
Wed 14th Brighton, Madeira Hotel (with Heavenly and Wet Nurses)
Thurs 15th Southampton, Joiners Arms (with Heavenly)
Fri 16th Leeds, Duchess of York (with Heavenly and Schwartzeneggar)
Sat 17th Hull, Adelphi (with Heavenly and Space Maid)
Sun 18th Manchester, Swinging Sporran (with Heavenly and Space Maid)
Mon 19th St Ives, Shire Horse (with Huggy Bear)
Tues 20th "Plymouth, some boat" (with Huggy Bear)
Wed 21st Exeter, Cavern Club (with Huggy Bear)
Thurs 22nd "Somewhere in the West Country" (with Huggy Bear)
Fri 23rd "Bristol, some venue" (with Huggy Bear)
Sat 24th (afternoon) London, Conway Hall (with Heavenly, Linus, Pussycat Trash and Skinned Teen)
Tues 27th Leicester, Princess Charlotte (with Unrest)
Thurs 29th Cambridge, Boat Race (with Unrest)
In addition to this, I have a flyer for the Heavenly & Lois tour of 1993:
Wed 20th October, London, St John's Tavern (Lois only)
Thurs 21st Birmingham, Jug of Ale
Fri 22nd Harlow, Square
Sat 23rd Oxford, Venue
Sun 24th Derby, Wherehouse
Mon 25th Norwich, University of East Anglia
Wed 27th Wokingham, Phoenix Plaza (Heavenly only)
Thurs 28th London, Garage
Fri 29th Tunbridge Wells, Forum
Sat 30th London, Rough Trade shop, Covent Garden (Lois only)
Also, a couple of years ago I ordered some zines from Finger Bang (run by Red Chidgey, who's the ringleader of the forthcoming Ladyfest Brighton). One of them was an old zine by someone called Erika from Olympia, 'Channel Seven'. It includes UK tour dates for Heavens To Betsy:
June 1994:
20th Newcastle, Broken Doll
21st Glasgow
22nd Bradford, 1 in 12 Club
23rd Brighton, Race Hill pub
24th Camden, London, Sausage Machine
25th Rough Trade, London, 4pm in store
26th Wigan, The Pier
27th Cambridge, Boat Race
28th Hull, Adelphi
29th Colchester, Oliver Twist
30th Southampton, Joiners
July:
1st Tunbridge Wells, Forum
2nd Leicester, Princess Charlotte
5th Highbury, London, Garage
7th Birmingham, Jug of Ale
I didn't see any of these shows & can't vouch for whether they took place. Same applies to any shows from the other tours which I didn't actually see, since gigs often fall through at the last minute.
There were other notable people around the scene at this time.
Deb Smith had been in Curve and Echobelly (though I didn't know this at the time), and was often the only black person at the early riot grrrl shows (apart from Darryl from Sister George, and he only turned up when he was playing). She ran a club for a while, Club Deb, with two other dykes called Deb. She's now in Snowpony with Katherine Gifford (ex-Stereolab) and Deb Googe (ex-My Bloody Valentine).
Liz Naylor had worked at Blast First and been in the Kray Cherubs with the cartoonist Savage Pencil. She started the Catcall label and co-released the Huggy Bear/Bikini Kill split LP.
Lesley was a nervy, brave riot grrrl who dropped out of sight for several years – I've seen a lot of her in the last four years, she is now married and about to give birth to a baby, and is much less confident than when I first knew her.
Sina and Sara were an Iranian brother and sister, 16 and 14 respectively, who did the longest-running queerzine, 'Concerned Muthers', along with various other zines and comics. Both are now artists.
Mark Connorton did a fantastic queerzine called 'Hormone Frenzy'. He is very quiet and unassuming in person, but this hides a barbed wit which came out in the articles and cartoons in his zine.
Howard a.k.a. Jack and his sister Nicole were another young sibling queerzine team. Howard works for a charity these days and Nicole is an artist.
Bidisha was a teenager who did a terrible zine called 'Girl Pride', was working on launching a magazine called 'Girl Power' (until the phrase became a Shampoo record and then the Spice Girls' slogan) with Susie Corrigan from i-D magazine, wrote two unimpressive novels, and used to turn up as a talking head on late night TV and radio occasionally. Ironic that with all the talented people around back then, she was one of the few people from the scene to achieve some kind of media success, at least for a time. She was well-meaning, but not very imaginative.
How about some details on a few of the bands? Starting with us...
Linus:
Tammy – vocals
Andy – guitar, vocals, bass
Jen – bass, vocals, guitar
Peter – drums
Jen left in Autumn '97. Charley (frantic Spiders) filled in until early '98, when we recruited Deb. We've had lots of drummers since Pete, there's a list of them on our website...
Sister George:
Ellyott – vocals, guitar
Lyndon – guitar, vocals
Lisa – bass
Darryl – drums
They broke up in, I dunno, 1995?, after a last, amazing show at the St John's Tavern. Their mini-album 'Drag King' (the first time I heard that term was in their song of that name – re-titled 'Handlebar' for the album) was released by Catcall over here and Outpunk in the States. Ellyott formed Nightnurse, who featured a 16-year-old Charlotte Hatherley, until she was poached by indie band Ash after one single (she did a solo album recently). Lyndon and Lisa formed Kidnapper with Lea (drummer from Mouthfull) on vocals and Toby on drums, plus for a while, extra guitarist Naz (no relation to Naz from Ladyfest London/the Bakery). Kidnapper split acrimoniously after a couple of singles on Fierce Panda. Lea and Toby formed Spy 51 – see below. The other three talked about forming a country band and haven't been heard from since.
Children's Hour:
Robert – vocals
Emma – guitar
? – guitar
? – bass
Seth – drums
Children's Hour were the second UK queercore band, a shambolic crew who played only two or three gigs. I can't remember the names of all of them, but Lucy might.
Mouthfull:
Andy – vocals, guitar
Mike – bass
Lea – drums
The longest-running UK queercore band. Lea left early on to join Kidnapper, and they went through many drummers (including the guy who'd replaced Peter in Linus – he didn't last long in Mouthfull, either). Canadian Mike (Wyeld) has been in lots of bands (currently the Kitschenettes), does remixes and the like, and ran a queer indie night called Up To The Elbow which was a precursor to Vaseline (later renamed Club V after Vaseline's manufacturers complained), the fab club which ran for six years and kept what was left of our scene breathing during the late 90s.
Hissyfit:
Becky – vocals, guitar
Ruth – guitar
Bethan – bass
Suzie – drums
You can read about Hissyfit and London riot grrrl at Suzie's site - this will take you to the start of her autobiographical ramble. Suzie & I were good friends at the time, but we lost touch until a couple of years ago, when I was shocked to discover – on reading her site – that their singer Becky had been a coke fiend at the time of riot grrrl. They were the most obscure band of the scene, had just three songs (maybe five by the end), and played only a handful of gigs, yet they were also the only band doing the rock star thing of snorting coke in the toilets before a show! This explains why Becky and Ruth were famously tetchy & tense... Jen has a photo of them onstage at the Monarch.
Frantic Spiders:
Cathy – vocals, guitar
Charley – guitar, vocals
Bomber – bass
Caroline – drums
From Exeter, this all-female band relocated to London in 1994. Bomber left not long after and was replaced by Jo. Charley injected a sense of poetry and mischief into the scene – guest-singing with Sister George at the PIAO Festival, she changed the words of their song 'Virus Envy' to 'Audrey Hepburn'. After the Spiders broke up she played guitar on Nightnurse's second single 'Skirt', and bass on Linus's 'Don't Forget' EP, before joining Salad as a live session guitarist, and subsequently Gay Dad. Since 2000 she's been in Spy 51.
Spy 51:
Lea – vocals, bass
Jenny – guitar
Nick – guitar
Toby – drums
I may be misremembering the guitarists' names. Jenny was a fantastic, spiky rock'n'roll guitarist whose style contrasted beautifully with Nick's softer rock style. She left after two or three singles on Fierce Panda, and they soldiered on for a while with Nick until he quit and Charley joined. These days they're a sort of epic new wave pop band – Lea's Dusty Springfield-esque voice and gift for melody with Charley's Stereolab/Duran Duran-influenced guitar sound.
Well, that's probably enough trivia for the time being...